About DBG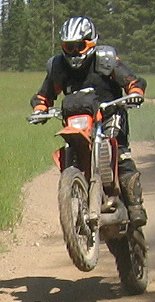 Hi! I'm Dan Schuster, owner, director of development, laboratory tester and chief bottle washer at DBG.
I've been riding motorcycles, mostly street, on and off since '75. In 1997 I got back into it when I bought a 97 KTM 250 EXC. And I found I loved it. But I didn't like the fender bags I could buy.
So I sewed my own. It was a pitiful thing - looked like a squashed enchilada. But then I sewed another, a real fender bag. And it worked great. I started to wonder if other people would like one also. That coincided with the fact that I had kids getting close to college age, and I had to figure a way to earn some money to help them get through.
I contacted a sewing company, and they made the first batch of 50. I hoped to sell between 50 and 100 my first year. I sold 150 fender bags in 8 months, and then about 300 the next year, about 500 the next year, and DBG was on its way.
Since that first year I've added a lot of stuff to my product line, mostly things I really want myself, like the Number Plate Bag for carrying a rain jacket, or things that people have asked for, like the Tool Wrap and the Fastboy Fender bag.
My fender bags have been on Charlie and Dave Rauseo's Rally bikes at two of the Dakar Rallies. My TrailMaster fanny pack was used at the 05 ISDE by Jason Dahner, a member of the USA Gold team, and at the 06 ISDE by New Zealand. My bags are used on six continents, in 30 countries.
In the non-motorcycling world I teach Computer Science, mostly programming and web development, at Western State Colorado University. If you are curious, here's my faculty web page.
Thanks for the support through the first 20 years!